A Weekend Guide to Smith Rock and Bend
When the rain comes into Washington, I search for the driest place to find sunshine and time outside. With a three day weekend, I looked to an Oregon getaway. Smith Rock is 5.5 hours south of Seattle and Bend is 30 minutes south of Smith Rock. With 3 days, we felt this was adequate enough of time to be able to enjoy our time there with the ratio of driving.
We left early Friday, missing most of the traffic between Seattle and Portland. The fastest route has you going a bit north of Portland, not going through the city. We stopped in Portland though for our favorite Pip's Doughnuts. It just so happened to be my lucky day as during your birthday week you get 12 free doughnuts! So glad we made this impromptu stop. They are warm delicious little bites of joy.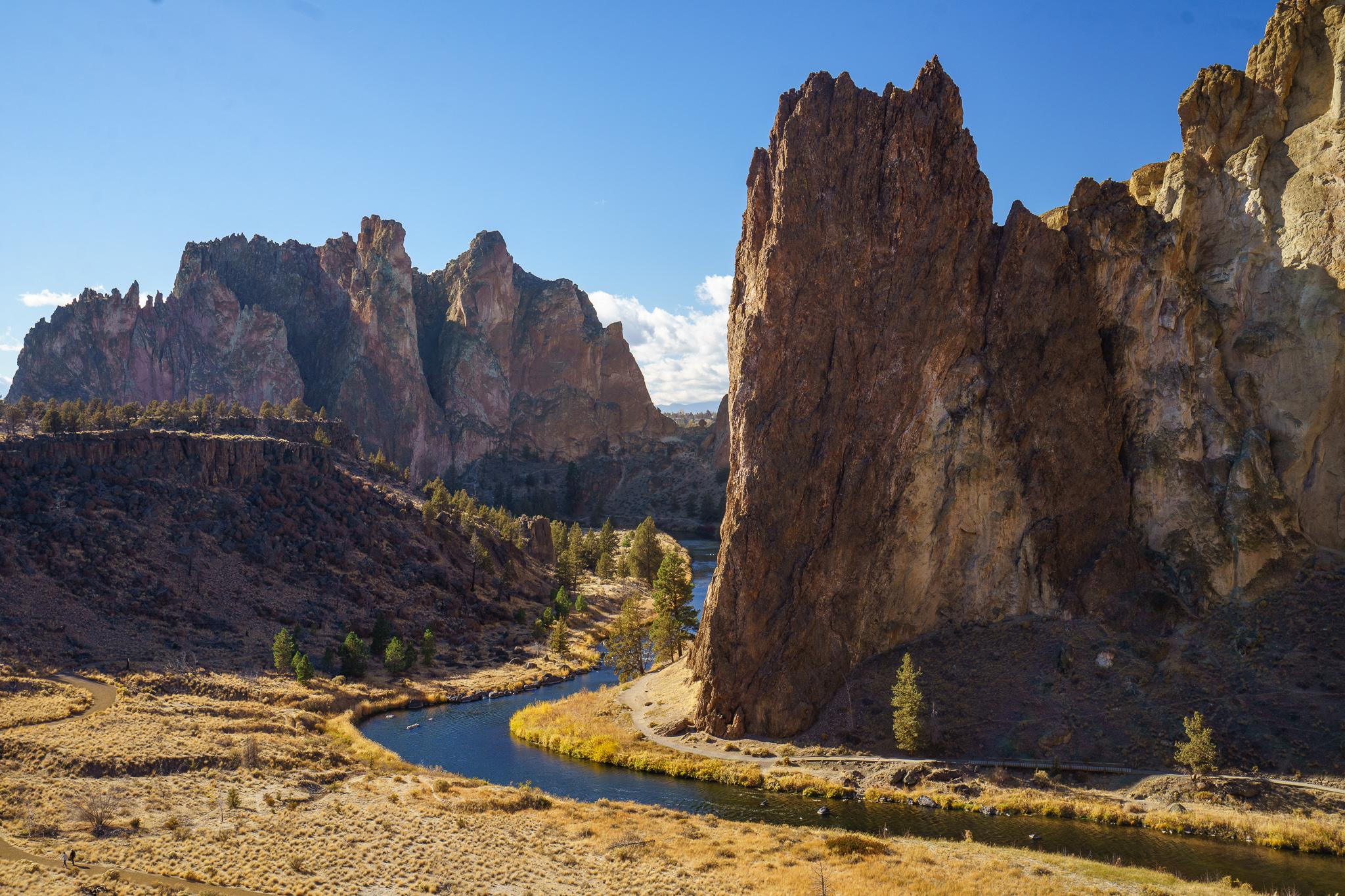 A couple hours later, we were finally to Smith Rock State Park. You drive from forests around Mt. Hood and then into almost desert like territory. The rock formations come out of no where. We thought it reminded us of Zion a bit with the river and tall rock walls. There are many things to do at Smith Rock. Some of the most popular options are rock climbing, biking and hiking. Our goal for this trip was to rock climb at Smith Rock for the first time. If you are interested in hiking, Misery Ridge Trail is one of the most popular and at 3.7 miles, you can see a lot of the park.
We did our research on climbing at Smith and bought a guide book to help us find climbing within our range. Guide books I have found are really important for rock climbing as it is hard to locate specific routes in large areas. We also bought a stick clip in advance as we heard that the first bolt (or place you clip your rope into) can be very high.
Day parking is $5, which you can pay with a credit card on a machine in the parking lot. We found parking was easy to find on a Friday, but got very busy Saturday morning. We donned our packs, rope, helmets and all climbing gear and hit the trail to find some rock to play on.
We went right for 5 Gallon Buckets, one of the most popular routes in the park. Ryan led the 5.8 rather effortlessly. I made it up 3/4 of the way, but also didn't want to spend a lot of time on it since we had a line behind us. It is told that there can be up to a two hour wait for this one route.
We continued further down the wall to a couple easier routes that I could do. It was so nice that most of the routes were free and available on a Friday afternoon.
We had a great day of climbing and now needed to head to camp. There is an area to camp at Smith Rock, but fires are not allowed there. As a cold November night, we opted to go somewhere that allowed fires. We found Skull Hollow Campground, 15 minutes away. There were a good amount of campers there when we arrived at around 6 PM or so. We found an open spot and started setting up camp. A few minutes later, a camper van pulled in saying they had paid for the spot already. We didn't notice the very small paper on the post indicating this. We apologized and packed up our things to find an open one. We found one and set up camp there. It was $10 for the night. We had a lovely fire and actually slept in the back of the Outback, which was warm and quite! The next morning we left early to get in a little more climbing.
When we arrived in the park again, it was already getting pretty busy at 8 AM. We intended to explore some other areas to climb, but everything got very busy and took a long time to do a single route. It was also not sunny and much colder this day. I did not enjoy how busy it was so we took off earlier than expected. Expect the climbing to be very busy on a shoulder season weekend.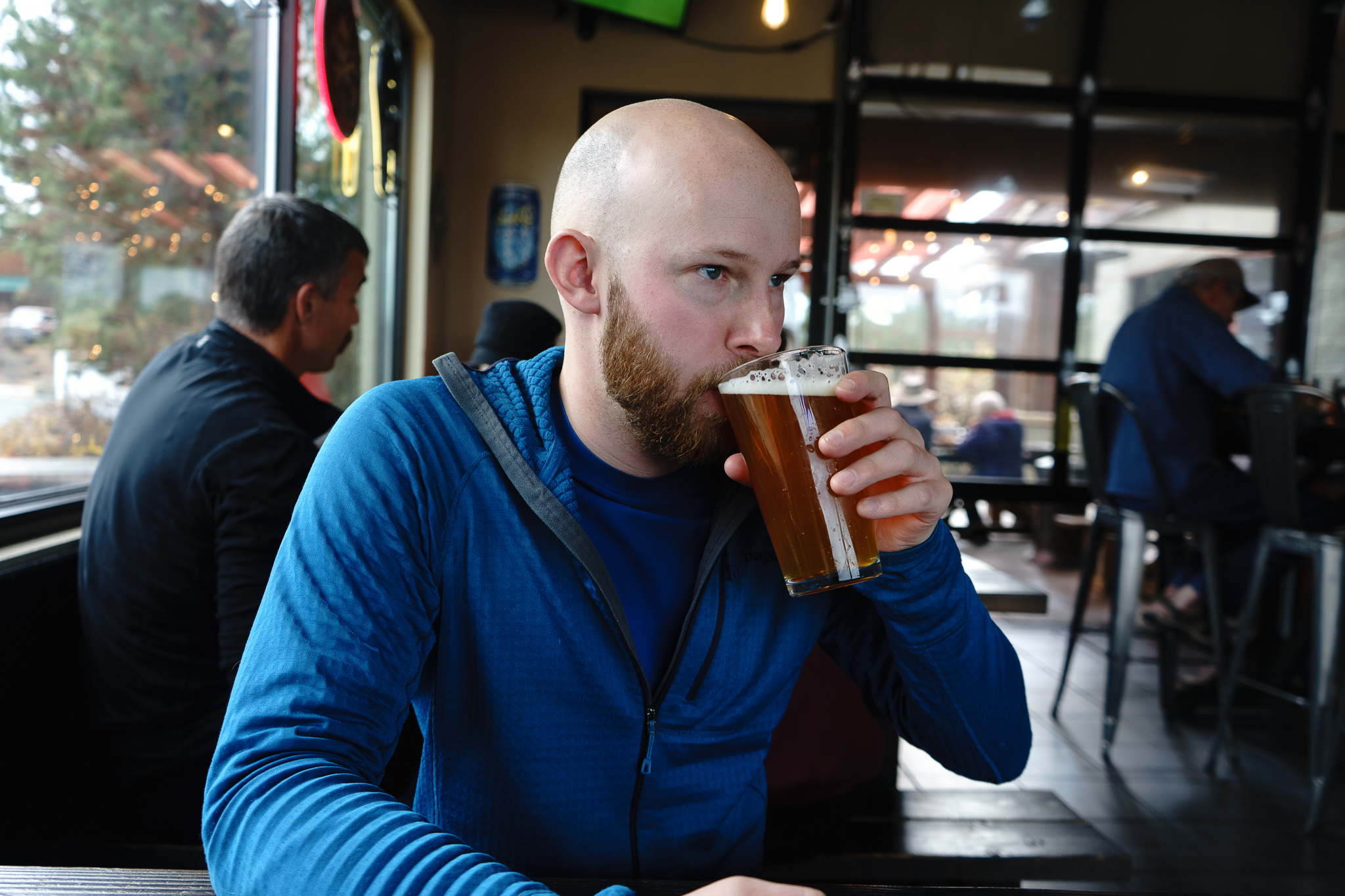 We were hungry and I went to Yelp to find something rather quick for lunch for us. I found Bangers & Brews. You get to design your own sausage with toppings and sauce! It was delicious.
We booked an Airbnb a few days before the trip. We found a room in a house semi-walking distance to breweries. We typically will book things like this to save money when we can't camp. It was only $53 as well. When you only need a place to crash, it does the job.
That evening we got ready to do a little brewery tour of Bend. First, we went to Deschutes Brewery. We got a flight of beer to sample many and had dinner here as well. I love their beer and their food. We split french onion soup, the jackfruit veggie burger and had a side salad with their fresh squeezed IPA vinaigrette.
We had room for dessert, so I searched the best ice cream. Their was a highly rated gelato place two blocks over so we checked it out. Bontà Natural Artisan Gelato had many flavors to choose from including seasonal ones. I highly recommend getting some!
We continued on our brewery adventure and went to the highly recommended Crux next. We shared another flight of beer and it did not disappoint. After this, we were too tired to continue, so got an Uber back to our Airbnb (Bend has Uber!). We got to bed early to rise early for the long drive back. Before leaving, we got breakfast and coffee in town. We went to The Sparrow Bakery and arrived to a busy line at 7:30 in the morning. We shared a blueberry lemon scone and I got the bacon free breakfast sandwich. This was honestly one of the best breakfast sandwiches of my life. Poached egg, avocado, arugula all on a fresh croissant.
That concluded our quick weekend trip to Smith Rock and Bend. In a couple months, the town will be flooded with skiers and others chasing fresh snow. Bend has something to offer for everyone with so many outdoor activities nearby and good food and beer. Put this on your list to visit if you haven't yet!