Snow Camping at Gothic Basin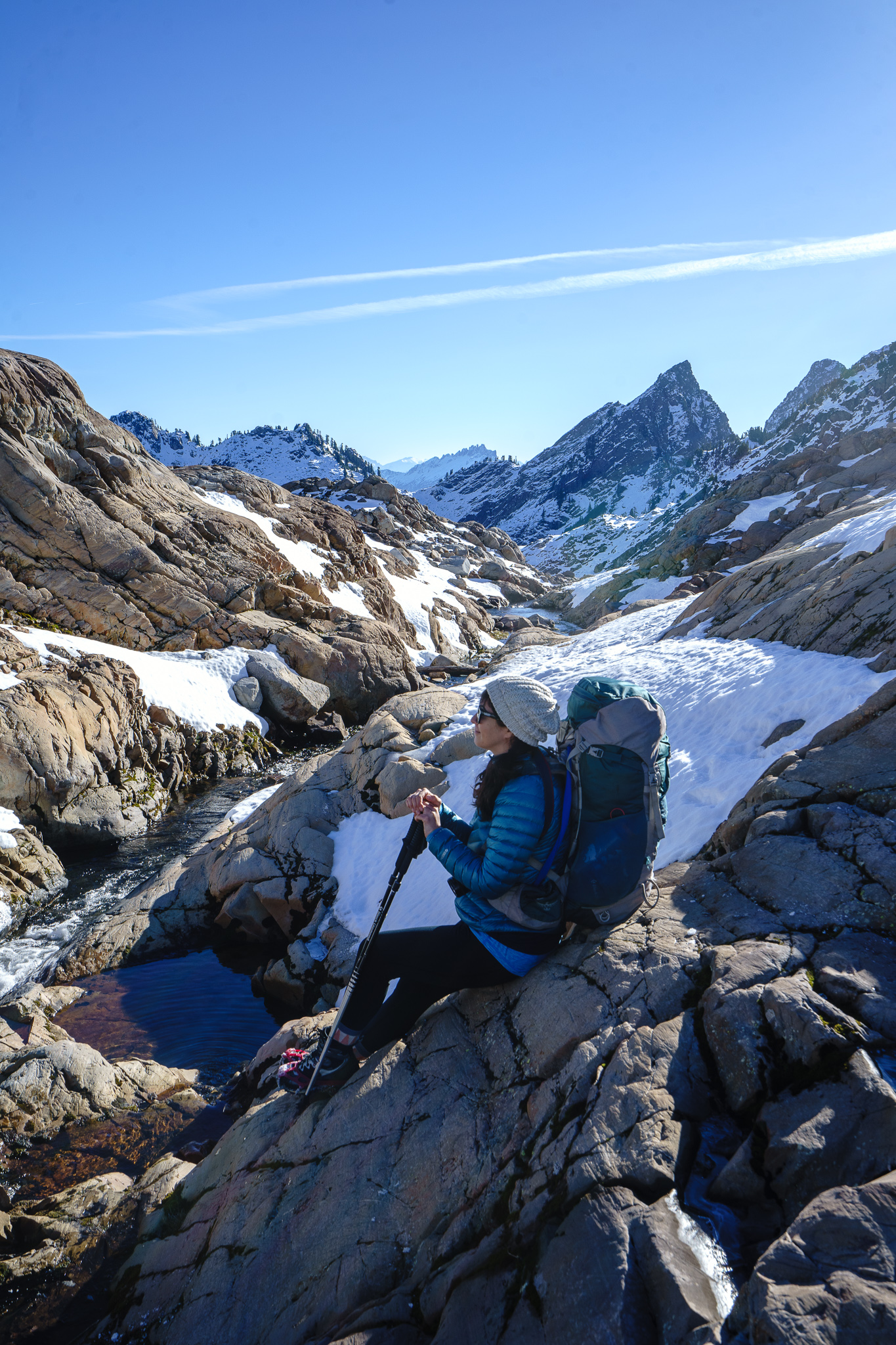 DATE HIKED: 11/17-18
TOTAL DISTANCE/ASCENT: 9.2 MILES AND 2,840 FT
DIFFICULTY: DIFFICULT
REQUIRED PERMIT: NONE
DOG FRIENDLY: YES
LOCATION: MOUNTAIN LOOP HIGHWAY/ NORTH CASCADES
RECREATION PASS: NORTHWEST FOREST PASS
When the weather works out to be nice all weekend, it's no surprise that you can find me backpacking or camping somewhere. So when the chance to snow camp came up again, I said yes. I gathered a group of 7 people to camp with and a few others joined to day hike. We chose Gothic Basin based on recent trip reports looking like a beautiful snow globe. Gothic Basin was also one of those hikes I have heard of since I started hiking in Washington that I've wanted to do, but hadn't made it happen yet.
We left Seattle early to make it to the trailhead by 8. There was a large group of day hikers there, but no other snow campers in the group. Our large group put on our very heavy packs and made our way up the trail. From a trip report the day before, someone mentioned they wished they had snowshoes for the upper portion of the hike, so many of us had those as well strapped to our pack.
The first mile of the hike is on a flat, old forest road. It then breaks off and the climbing begins through the woods. There are some very steep parts of the trail. It gets more difficult as the trail becomes rocky. This was made more difficult with a thin layer of ice over it. Many parts of the trail took careful, thoughtful footing over icy patches. This trail is quite treacherous with the added ice element. It took us over 3 hours with no long breaks to get to the lower Gothic Basin portion. The area was covered in a blanket of fresh snow. All the painful incline finally felt worth it.
Towards the top to Foggy Lake we post-holed a bit, but nothing needing snowshoes. We never needed snowshoes on this trip. It was a bummer to carry them all the way up the mountain, but you never know what conditions will be like with fresh snow.
We made the final climb to Foggy Lake and enjoyed lunch by beautiful lake with Del Campo looming over it.
The day hikers left to make it back before dark and the rest of us went in search of a place to call home for the night. We found a nice flat area above the lake to set up camp. We didn't even have to dig platforms for our tents as the snow was so firm.
We lost the sun very early in our little valley. I hurried to filter water before it was dark and very cold. I was very happy to be able to filter from the lake and not melt snow. We ran around capturing the last light of the day. Sunset was now around 4:30. I miss you late summer sunsets.
Once the last light of the day left us, we gathered around are sudo fire (lantern) to eat dinner. Sitting on the z-lite pad around camp is an awesome barrier from the snow and then at the end of the night I throw it under my other sleeping pad. We shared desserts, laughs and funny stories to keep us occupied on staying warm. Once it was dark enough, many of us set up our tripods to take night shots. The moon was bright. I loved the lit up snowy landscape so much. This may be my favorite night shots yet!
After running around taking night shots for hours, we all went to sleep. I had my new 0 degree bag and sleeping bag liner and down booties this night. I had the best night of sleep snow camping yet! I stayed warm and comfortable all night.
We got out of the tent at 7:00 to take in the sunrise. We were greeted by a beautiful reflection on the lake.
We packed up and hiked out before 10 AM. We wanted lots of time to navigate the icy trail back down.
We made it back to the trailhead in one piece. Another successful snow camping trip with friends new and old. I am officially excited for winter!